Don't waste the opportunity to capture interest when you onboarding new joins
When someone joins your community they're motivated, yet they're also unsure if they will get the value they crave from it. Most of the time when someone new joins they'll have a look around and leave without engaging. The next few days are vital in their journey to become an active member.
You want these members to develop a habit of coming back to get involved. GreetBot is one tool that can help you with this. It automates the process of welcoming your new joins. It enables you to describe the value on offer in your Slack, and nudge them towards channels worth checking out.
However, there's a big part of the puzzle missing with GreetBot... You're not capturing any of their interest.
You're leaving it to chance they will discover your value and develop that habit of coming back.
Lowdown changes that.
It automatically welcomes your nembers when they join with a custom message. In addition, it has the added bonus of capturing their interest by letting them set up an email digest, so they get to experience your value outside of Slack. Increasing the likelihood they develop the habit of coming back to engage.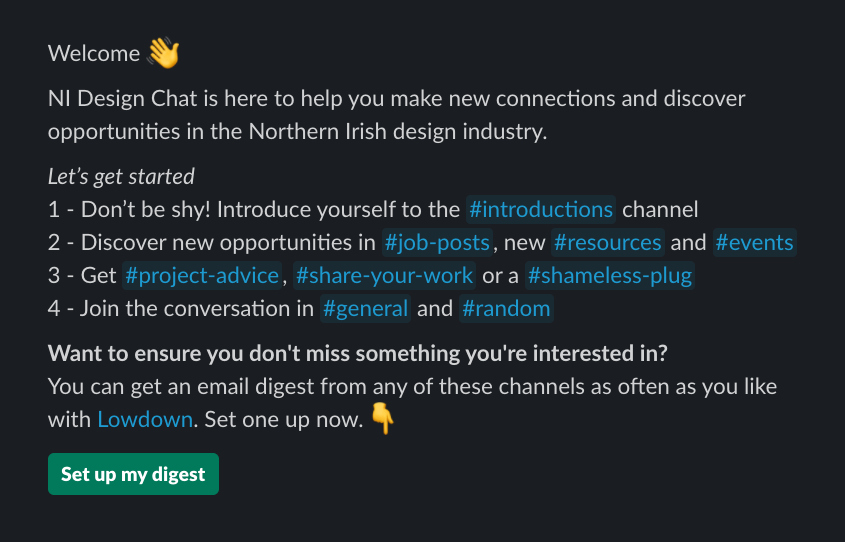 Don't waste the opportunity to engage your new members at the moment they're primed, motivated and ready to experience the value your community has to offer.
If you'd still prefer to just welcome your new members you can do that too with Lowdown by simply turning off the digest set up button.
Start welcoming your new members with Lowdown today
Deliver your value direct to members
30 day free trial, no credit card required